Shake & Composition Shingles
Natural elements break down the structure of wood fibers, causing shakes to curl or rot. Protecting your investment with a professional restoration will not only beautify your roof but increase it's life expectancy.
Shake roof restoration starts with a through cleaning of the roof. Powerful backpack blowers are used to clean off the loose dirt and leaves. If necessary the roof will be pressure washed. The next step is to make repairs. Missing ridge caps, broken and missing field shakes, and any existing leaks are fixed. Finally a protective coating is put on to protect shakes from harmful UV rays, water penetration and drying out of the wood.
Before and After: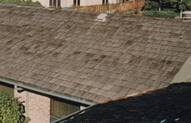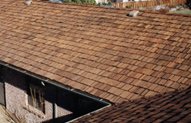 Completed Project:

For exceptional roofing services, trust T.A. Krause, Inc..
Call (209)339-9165 today!

Free, No-Obligation Estimate
Not sure what will be involved in your project or the costs? We provided full estimates free of charge to give you the best solution for the best price!

Integrity
We've stood behind our work for over 30 years. We provide the best service, solution, and experience on the market by putting you first.

Satisfaction Guarantee
Not happy with the results? We do everything possible to resolve any issues and leave you 100% satisfied.